FLOWERS
- Ref. 7039 -
See the product
Enchanting walls with Giovanni Barbieri
What led you to work on ornamental wall tiles?
Me and my staff are always looking for what the market need. On end of 2007, we realized that walls must be enhanced with 3D effect taking advantage of this possibility. The cooperation with USA distributors gave immediately great results. I believe now we are still the pionieer on this Design niche section with no competitors. Since we start to be present on any Awards concourse, we are winning every year. This is our best work result parameter.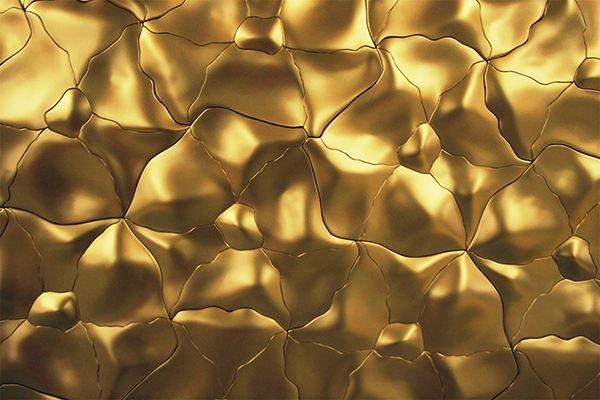 What is your main source of creative inspiration?
The passion never end….normally a collection that we decide that deserve to be introduced in the market is a great combination and result of large experience in the sector not only as design but also and especially installation experience that is a part of our Family business, inspiration from thousands and thousands of pictures and decades of shows visiting every year , together the decision that the last prototype made after many scrtech, draft drawings and many production trials, deserve to be really advan garde compared with what is available in the market at the time we decide to launch.
How did you approach the world of decorative plasterwork?
This is a great question: yes, of course, plaster is a low cost product comapre with what we normally work with, in other way it is very versatile because every installation can be painted as per customer like.
My design was developed for help low cost investment and in the same time have something highly versatile as per aesthetical result and any colour paint application at installation completed, with of course a great final result.
In other way, and not less important, mostly the times we decide to start work with new material or and especially with a new factory, it is not by the production material we decide to work with , only, but first of all this must be a high professional Factory, having excellent team, fantastic customer service and highly passionate workers. This is what Staff Decors impressed me at first sight .
Yes…you understand…At the end is always the same thing... Right people first. Only with right people, everything is possible!
What object are you most attached to?
My best objects are my lapis and my white raw paper notes first and my electrical small tools for make prototypes, after; first trials prototypes are always obtained by a piece of a soft limestone...
I must have the piece in hand, not a nice 3D imagine…
In other point of view… it is not an object what I am more attached to….it is a passion and hardwork: when you are working for something that you like / believe/ love, there are no time to stop at the end of any day because we are too much anxious and happy to see the result obtained…this make a work become a pleasure and not a stress after 15 or more hours work in a day… even in the week end sometimes….Family permitting of course…this is another half miracle… and long story…
What are your latest designs?
We are working right now in 2 directions:
one is a new Porcelain tiles collection for floor and wall….it is mostly ready. The second is a very advan garde 3D evolution , quietly complicate… but I believe
Staff Decors
is one of the few able to give the right importance and value with their quality of production and passion.